Featured Jobs at Six Flags Discovery Kingdom
Security Officer
Apply
Description
The purpose of this position is to protect employees, Guests, and company property; assist Guests and employees with questions and problems in a friendly and engaging manner.
Duties and responsibilities include:
Enforcing laws and park policy

Area patrol

Gate inspection

Parking lot patrol

Queue line patrol

Event duty

Post duty

Paperwork

Reports
Park:
Six Flags Discovery Kingdom
Apply
Six Flags Discovery Kingdom Vallejo CA Vallejo
Six Flags Discovery Kingdom is the best place to work in Northern California!
Six Flags Discovery Kingdom is open year round!
The most diverse theme park entertainment offering in Northern California can be found at Six Flags Discovery Kingdom. From frolicking dolphins to thrilling rides, we offer family fun and create life-long memories for our Guests. This is all possible because of our incredible employees who are friendly, outgoing, enthusiastic and energetic.
With so much to offer our Guests, there's no shortage of exciting positions. You can work concerts and shows like Odin's Temple of Tiger and thrilling rides like Medusa, one of the tallest floorless coasters in the world. Our Team Members also get to be a part of various special events such as Festival Latino, Fright Fest and Holiday in the Park. With so much to offer in terms of job opportunities, you'll enjoy new adventures each and every day
International Jobs Program
Six Flags Theme Parks offer over 2,500 great jobs for foreign students/participants throughout our award-winning parks in the United States. This year, you could be working in the U.S.A. and sightseeing in your spare time. If you're interested in having an experience of a lifetime, please apply through one of our partner agencies.
Six Flags will continue to provide job offers to qualified applicants after a successful interview. If selected, Six Flags will offer participants a minimum hours guarantee for 2016. The hours range from 30 to 35 (depending on time of year) with a minimum of 35 hours available during the summer season.
GENERAL INFORMATION
Six Flags has jobs in Ride Operations, Games and Attractions, Lifeguarding, Food Services, Entertainment, Ticket Selling, Safari Touring, and Guest Relations. Many of our parks have leadership positions available for qualified applicants. All our jobs require a great deal of interaction with our guests, so you will need a solid command of English. Our pay rates vary between different parks and positions.
HOUSING
Housing is provided for a fee for all Six Flags jobs. Housing varies by location. Most of our housing accommodations have kitchens. You'll be charged rent on a weekly basis and it will be deducted from your paycheck for convenience.
TRANSPORTATION
If you don't live close enough to walk to work, Six Flags will arrange transportation. Most parks charge a nominal fee for this service.
BENEFITS
Most Six Flags Parks offer these benefits and more:
Discounts at in-park stores

Free park tickets

Sight-seeing trips

Employee parties

Flexible work schedules

Opportunity for additional hours (if available)
H2-B Visa Extensions - Limited Time
For a limited time, Six Flags is accepting applications for H2-B Visa Extensions. Please visit the link Alliance Abroad Group for further information and deadline for the 2016 season.
HOW TO APPLY
All inquiries and applications should be directed to one of our partner agencies listed above. Please do not apply for positions through this website.
Auditions
If you've got talent, we want to meet you. We're always in the market for gifted actors, singers, dancers, magicians, specialty acts and performers of all types. Please bookmark this page and check back often for the latest casting audition notices.
Coming Soon - Fright Fest Zombie and Performer Auditions!
Positions Looking For: Singers & Dancers
Will be performing outdoors on stages and sidewalks
Must be able to follow direction and learn choreography quickly
GENERAL INFORMATION FOR TALENT
• All persons hired must provide their own transportation to and from the park.
• Availability for rehearsals/performances is mandatory and plays a major factor in being hired.
• Please bring up-to-date availability information with you. If hired, your schedule will be based on this information.
• We strongly encourage performers from all cultural backgrounds to audition.
• You must be at least 18 years of age (16 for some positions).
• Arrive at least 30 minutes early to the audition.
• Auditions are open to participants only.
• Be prepared to stay all day. Bring snacks and water.
• Bring updated head shots and resumes, if available.
• Performances could be outside, in day time or at night, and in all weather conditions..
• Please note all positions are seasonal and will be terminated at the end of the show.
• No position is guaranteed 40 hours per work week.
• If you have questions please contact Human Resources at 707-556-5410.
• Click here for directions to the park.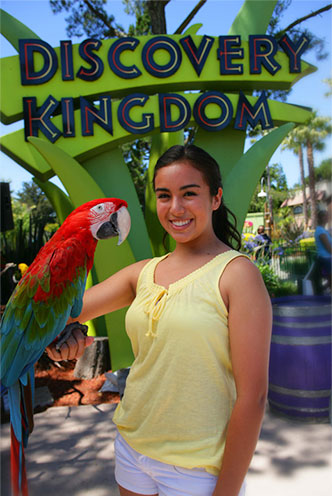 View All Job Openings
Laughing, Learning, and Loving Your Job
This is your opportunity to find the kind of position that will make you truly love coming to work every day. The possibilities are endless! Six Flags offers real leadership opportunities, exclusive events, and unbelievable perks and discounts to our employees. You'll have fun working alongside other entertainment enthusiasts in any one of our amazing locations. There are so many advantages to working at Six Flags, and we want you to enjoy every one of them!