Full Time Ride Mechanic
Apply
Description
FULL TIME RIDE MECHANIC
Job Summary:
The Maintenance Department is currently seeking a qualified Individual to provide skilled technical services as a Ride Mechanic/Welder.
Activities include:
Access all areas of equipment and ride structures for inspection.
Performing preventative maintenance, repairs, and overhauls.
Analyze equipment breakdown situations or problems to determine cause and corrective action to be taken.
Working with hydraulics, gear boxes, pneumatics, and conveyors, and performing general skilled work.
The ideal candidate must possess:
Basic knowledge of the operational aspects of machinery components.
A valid State Driver's License and High School Diploma or valid GED.
A personal tool box with a good set of hand tools.
Ability to work a variety of shifts, including weekends, nights, and holidays and be available for overtime as needed.
Ability to perform various physical activities, such as climbing, crawling, and lifting, from various heights on ride structures.
Demonstrable communication skills in English (reading, writing, and speaking), and ability to keep accurate written records.
Vocational or technical training in mechanical / welding trades preferred.
Park:
Fiesta Texas
Apply
Six Flags Fiesta Texas, San Antonio, TX San Antonio
The Most Exciting Place to Work in San Antonio and South Texas
Are you ready to join the most exciting team in San Antonio? Six Flags Fiesta Texas has thrilling job opportunities and surprises around every corner. With award-winning rides and entertainment, and awesome special events like Fright Fest and Holiday in the Park, Six Flags Fiesta Texas has something to offer everyone.

Whether you want to work in food service, security, games, or retail, our positions are sure to offer you a new adventure each and every day.
International Jobs Program
Six Flags Theme Parks offer over 2,500 great jobs for foreign students/participants throughout our award-winning parks in the United States. This year, you could be working in the U.S.A. and sightseeing in your spare time. If you're interested in having an experience of a lifetime, please apply through our partner agency, Alliance Abroad Group.
Six Flags will continue to provide job offers to qualified applicants after a successful interview. If selected, Six Flags will offer participants a minimum hours guarantee for 2016. The hours range from 30 to 35 (depending on time of year) with a minimum of 35 hours available during the summer season.
GENERAL INFORMATION
Six Flags has jobs in Ride Operations, Games and Attractions, Lifeguarding, Food Services, Entertainment, Ticket Selling, Safari Touring, and Guest Relations. Many of our parks have leadership positions available for qualified applicants. All our jobs require a great deal of interaction with our guests, so you will need a solid command of English. Our pay rates vary between different parks and positions.
HOUSING
Housing is provided for a fee for all Six Flags jobs. Housing varies by location. Most of our housing accommodations have kitchens. You'll be charged rent on a weekly basis and it will be deducted from your paycheck for convenience.
TRANSPORTATION
If you don't live close enough to walk to work, Six Flags will arrange transportation. Most parks charge a nominal fee for this service.
BENEFITS
Most Six Flags Parks offer these benefits and more:
Discounts at in-park stores

Free park tickets

Sight-seeing trips

Employee parties

Flexible work schedules

Opportunity for additional hours (if available)
Auditions
If you've got talent, we want to meet you. We're always in the market for gifted actors, singers, dancers, magicians, specialty acts, and performers of all stripes. Please bookmark this page and check back often for the latest casting audition notices.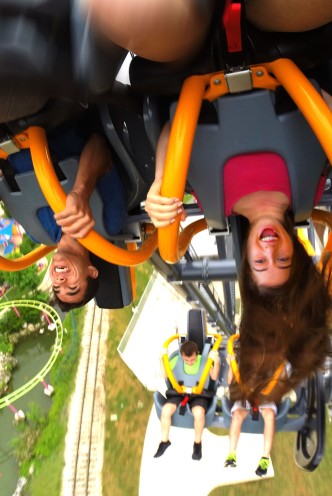 View All Job Openings
Laughing, Learning, and Loving Your Job
This is your opportunity to find the kind of position that will make you truly love coming to work every day. The possibilities are endless! Six Flags offers real leadership opportunities, exclusive events, and unbelievable perks and discounts to our employees. You'll have fun working alongside other entertainment enthusiasts in any one of our amazing locations. There are so many advantages to working at Six Flags, and we want you to enjoy every one of them!