EMT- Paramedic
Apply
Description
Scope of Responsibilities:
Patient assessment, including physical examination and First Aid and Basic Life Support including airway management, ventilator support, circulatory and shock management, clinical assessment, orthopedic care, medication administration, obstetrics, medical and trauma care and patient extrication and safety
Paramedic care is limited to intravenous therapy, endotracheal intubation, defibrillation, and drug administration where approved and authorized by the company and the park medical director.
Recognizes the need for special or additional assistance, including Advanced Life Support, ambulance transport, aero-medical transport, patient extrication, rescue or other services.
Acts in the best interest of the patient
Physician contact, patient transfer and referral, transfer of care and follow up
Telecommunication, radio communications and dispatch of resources
Information gathering, reporting and documentation according to established procedures
Employee, peer, and public interaction
Inspection, inventory, maintenance, preventative maintenance and cleaning of grounds, facilities, work areas, vehicles, supplies, and equipment
Safety awareness and reporting
Understands and performs appropriately under the Emergency Response Plan, including disaster and Multiple Casualty Incident (MCI) operations and management
Infection control, biohazards material identification, clean up and disposal
Basic identification of hazardous atmospheres, materials, and incidents
Vehicle operations, emergency vehicle operations, and defensive driving, including driving and operating ambulances and other vehicles in a safe manner and is familiar with park and local geography, routes of response, etc
Administrative duties may include filling, distribution, computer operations, typing and data entry
Understands, supports, and follows the Standard Operating Procedures and Patient Care Protocols
Attends mandatory meetings, training and education, etc
May assist other personnel with their duties
Must remain alert, helpful, and courteous at all times
Promotes a professional environment
 Performs other duties as assigned, needed, or required
This position may have potential exposure to blood, bodily fluids, other potentially infectious materials and communicable diseases
While this job description is designed to be an accurate reflection of the requirements of this position, management reserves the right to add or remove duties/responsibilities as circumstances dictate (e.g. emergencies, technological advances, changes in workload, etc.).
| | |
| --- | --- |
| Factors | Substantiating Data |
| Education | High School diploma or equivalent required. |
| Experience | Possesses and maintains a valid and current Emergency Medical Technician -- Paramedic Automated External Defibrillation certification or license and completes all requirements for renewal, including continuing education classes or hours. Possesses or maintains a valid and current American Heart Association or an accepted equivalent nationally standardized Adult / Child / Infant CPR course completion card (current is defined as having completed a course within the previous two years). Possesses and maintains a valid and current state driver's license and current park driver's license. |
| Complexity Of Duties | Ability to communicate well, verbally and in written form. Hears and listens well. Ability to interpret written, oral, and diagnostic form instructions. Ability to use good judgement and remain calm in high stress situations. Ability to work effectively in an environment with loud noises and flashing lights. Ability to function effectively through an entire shift or assignment. Ability to calculate weight and volume rations and read small print both under life threatening time restrictions. Ability to read and understand English language manuals, texts, and maps. Ability to converse and comprehend English effectively. Accurately discern and interpret directions, street signs, addresses, and landmarks. Ability to appropriately interview patient, family members, bystanders, and witnesses. Ability to document in writing, all relevant information in a prescribed format. |
| Supervision | Under general supervision. |
| Errors/Safety | Safety awareness and reporting. |
| Contact With Others | Employee, peer, and public interaction. |
| Confidential Data | Exposed to confidential data. |
| Visual and Mental Demand | Requires normal visual and mental demand. |
| Physical Demand | Requires continuous standing, walking, bending, eye / hand coordination, near vision, hearing, speech, and stepping up / down. Ability to lift, carry, and balance heavy loads. Ability to lift, carry, balance, manipulate and operate tools, equipment, instrument, implements and etc. to the specifications, standards, etc, of the manufacturer or Patient Care Protocols. Good manual dexterity, with ability to handle tools, implements, etc. in order to perform all tasks related to the duties of Health Services personnel. Ability to walk, run, bend, stoop, and crawl on uneven terrain. |
| Working Conditions | Ability to withstand varied environmental conditions such as extreme heat, cold, moisture, dryness, etc. Ability to work in low light, confined spaces and potentially hazardous environment. |
If you are an outgoing and high-energy person who is seeking an exciting and dynamic employment opportunity, join our Six Flags team and enjoy a year of thrills! Don't miss out, apply today!
Park:
Fiesta Texas
Apply
Six Flags Fiesta Texas, San Antonio, TX San Antonio
The Most Exciting Place to Work in San Antonio and South Texas
Are you ready to join the most exciting team in San Antonio? Six Flags Fiesta Texas has thrilling job opportunities and surprises around every corner. With award-winning rides and entertainment, and awesome special events like Fright Fest and Holiday in the Park, Six Flags Fiesta Texas has something to offer everyone.

Whether you want to work in food service, security, games, or retail, our positions are sure to offer you a new adventure each and every day.
International Jobs Program
Six Flags Theme Parks offer over 2,500 great jobs for foreign students/participants throughout our award-winning parks in the United States. This year, you could be working in the U.S.A. and sightseeing in your spare time. If you're interested in having an experience of a lifetime, please apply through our partner agency, Alliance Abroad Group.
Six Flags will continue to provide job offers to qualified applicants after a successful interview. If selected, Six Flags will offer participants a minimum hours guarantee for 2016. The hours range from 30 to 35 (depending on time of year) with a minimum of 35 hours available during the summer season.
GENERAL INFORMATION
Six Flags has jobs in Ride Operations, Games and Attractions, Lifeguarding, Food Services, Entertainment, Ticket Selling, Safari Touring, and Guest Relations. Many of our parks have leadership positions available for qualified applicants. All our jobs require a great deal of interaction with our guests, so you will need a solid command of English. Our pay rates vary between different parks and positions.
HOUSING
Housing is provided for a fee for all Six Flags jobs. Housing varies by location. Most of our housing accommodations have kitchens. You'll be charged rent on a weekly basis and it will be deducted from your paycheck for convenience.
TRANSPORTATION
If you don't live close enough to walk to work, Six Flags will arrange transportation. Most parks charge a nominal fee for this service.
BENEFITS
Most Six Flags Parks offer these benefits and more:
Discounts at in-park stores

Free park tickets

Sight-seeing trips

Employee parties

Flexible work schedules

Opportunity for additional hours (if available)
Auditions
If you've got talent, we want to meet you. We're always in the market for gifted actors, singers, dancers, magicians, specialty acts, and performers of all stripes. Please bookmark this page and check back often for the latest casting audition notices.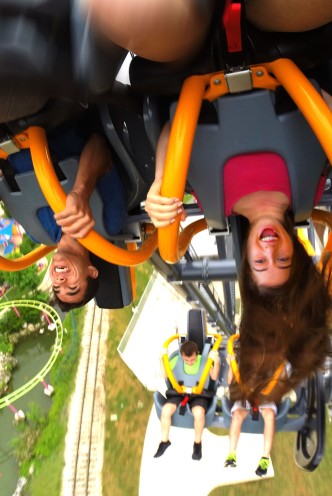 View All Job Openings
Laughing, Learning, and Loving Your Job
This is your opportunity to find the kind of position that will make you truly love coming to work every day. The possibilities are endless! Six Flags offers real leadership opportunities, exclusive events, and unbelievable perks and discounts to our employees. You'll have fun working alongside other entertainment enthusiasts in any one of our amazing locations. There are so many advantages to working at Six Flags, and we want you to enjoy every one of them!