Featured Jobs at Six Flags White Water
Security Officer
Apply
Description
DESCRIPTION: Rule breakers better watch out when you're on our security team. You'll spend the summer patrolling parking lots and controlling metal detectors, checking everything from guests' bags to employee badges. You'll protect our people and our property -- all while securing valuable law experience and rewarding benefits.
What You Will Be Doing
Interact with guests providing directions and assistance
Protect employees, guests, and company property
Enforce park policies
Control park access, checking vehicle permits and scanning ID badges for team members, vendors, and contractors
Patrol and inspect assigned areas of the park
Keep unauthorized personnel out of restricted areas
Greet and screen entering through metal detection and check their bags for prohibited items
Rapidly respond to active alarms, first aid, and other emergency situations
Monitor all areas for safety hazards, including fire, theft, and vandalism
Maintain ride queue lines, sending line jumpers to the back to ensure an efficient boarding process
Write detailed reports of damage, incident logs, and security records
Apprehend violators, including on-foot pursuits when necessary
Escort guests and team members as needed for assistance and protection
How You Will Do It
Ability to work in an environment as fast-paced as our coasters
Demonstrate a strong work ethic and commitment to safety
Strong attention to detail
Enforce all park policies and procedures
Cautious and reliable
Remain calm in emergency situations
What You Will Need
Must be 18 years or older
Must be a high school graduate or possess GED & Georgia Driver's License
Must pass background check and Drug test
Able to lift, carry, and balance heavy loads
Physical qualifications to stand, walk, stoop, bend, and reach throughout your shift
Park:
Six Flags White Water
Apply
Six Flags White Water, Atlanta, GA Marietta
The Nation's "Best-in-Class Private Water Park"
If you're looking for fun in the sun, Six Flags White Water is your destination. There's something for everyone including Run-A-Way River, a runaway raft that banks and swerves through 735 feet of tunnel, and features 70-foot power dips. For thrill seekers, take a ride on Tornado, a slide that drops you
seven stories, then navigates through 5,000 gallons of churning H2O. You'll be working for one of the Travel Channel's top 10 water parks in the country and the Best Private Water Park as recently awarded by Aquatics International.

There's no better place for making friends, staying cool and getting paid all summer long than at a job with Six Flags White Water.
International Jobs Program
Six Flags Theme Parks offer over 2,500 great jobs for foreign students/participants throughout our award-winning parks in the United States. This year, you could be working in the U.S.A. and sightseeing in your spare time. If you're interested in having an experience of a lifetime, please apply through one of our partner agencies.
Six Flags will continue to provide job offers to qualified applicants after a successful interview. If selected, Six Flags will offer participants a minimum hours guarantee for 2016. The hours range from 30 to 35 (depending on time of year) with a minimum of 35 hours available during the summer season.
GENERAL INFORMATION
Six Flags has student jobs in Ride Operations, Games and Attractions, Landscaping, Food Services, Entertainment, Ticket Selling, Safari Touring, and Guest Relations. Many of our parks have leadership positions available for qualified applicants. All our jobs require a great deal of interaction with our guests, so you will need a solid command of English. Our pay rates vary between different parks and positions.
HOUSING
Housing is provided for a fee for all Six Flags jobs. Housing varies by location. Most of our housing accommodations have kitchens. You'll be charged rent on a weekly basis and it will be deducted from your paycheck for convenience.
TRANSPORTATION
If you don't live close enough to walk to work, Six Flags will arrange transportation. Most parks charge a nominal fee for this service.
BENEFITS
Most Six Flags Parks offer these benefits and more:
Discounts at in-park stores

Free park tickets

Sight-seeing trips

Employee parties

Flexible work schedules

Opportunity for additional hours (if available)
HOW TO APPLY
All inquiries and applications should be directed to one of our partner agencies listed above. Please do not apply for positions through this website.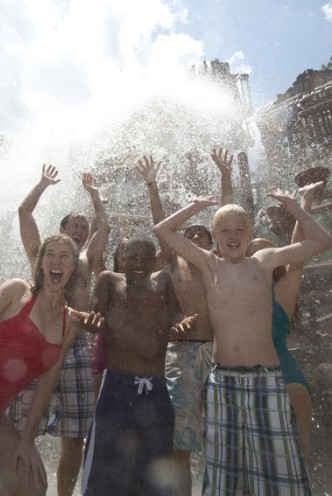 View All Job Openings
Laughing, Learning, and Loving Your Job
This is your opportunity to find the kind of position that will make you truly love coming to work every day. The possibilities are endless! Six Flags offers real leadership opportunities, exclusive events, and unbelievable perks and discounts to our employees. You'll have fun working alongside other entertainment enthusiasts in any one of our amazing locations. There are so many advantages to working at Six Flags, and we want you to enjoy every one of them!