Featured Jobs at Six Flags Great America
Security Toll Plaza Team Member
Apply
Description
Job Summary: To operate a Point of Sales (POS) register and hand held scanner, receive money and vouchers from the guests for parking, scan Seasons Passes and distribute park information brochures with special emphasis on guest interaction.
16 years old or +
Basic math skills
Outgoing and friendly personality
Physical ability to stand, reach and climb one step almost continuously
Ability to work in adverse weather conditions and confined spaces
Ability to work independently with minimal supervision
Available to work flexible hours, at night weekends and holidays
Properly handle currency. Maintain an even cash bank or register
Must be professional, self-motivated and have an enthusiastic attitude
Must be able to stand up to 6 hours at a time and as many as 8 hours a day
Must be able to walk up to 3 miles per day over various surfaces
Must be able to lift 25 lbs. consistently
Adhere to the park standards of appearance and strive to maintain a safe environment
Park:
Six Flags Great America
Apply
Six Flags Great America, Chicago, IL Gurnee
Work at Six Flags Great America
Six Flags Great America is looking for hard-working, dedicated and enthusiastic individuals who are ready to utilize their talent with a challenging and rewarding position. Students, teachers, moms, dads, seniors, and individuals of all cultures are encouraged to apply.

Bookmark this page today and check back frequently to see all the latest available jobs.

Join the extreme Social Network at Six Flags Great America and Hurricane Harbor! Apply now and get ready for all of our fantastic perks and benefits. We guarantee on-the-job excitement, with the opportunity to meet new friends and learn new skills—while getting paid! Enjoy a flexible schedule — perfect for anyone looking for some extra cash — unlimited admission and park discounts. We even offer scholarships, instant cash rewards, paid internships and much, much more! Whether your idea of fun is working as a lifeguard, in retail, guest services, performing in a show, making funnel cakes — or maybe running one of our 14 coasters… there's something for everyone. So if you're looking for an exceptional place to work — Go Big, Go Six Flags!
Auditions
If you've got talent, we want to meet you. We're always in the market for gifted actors, singers, dancers, magicians, specialty acts, and performers of all types. Please bookmark this page and check back often for the latest casting audition notices.
General Information
All persons hired must provide their own transportation to and from the park.
College Credit can be earned by performers, technicians and wardrobe personnel.
Availability for rehearsals/performances is mandatory and plays a major factor in being hired
Please bring up-to-date availability information with you. If hired, your schedule will be based on this information.
Performers should bring a non-returnable photo and resume to the audition.
We strongly encourage performers from all cultural backgrounds to audition.
TIPS FOR TALENT
Please arrive at least 30 minutes prior to your scheduled audition time.

Please bring a recent headshot and resume with current contact information.

If you plan to audition with a musical number, please bring the sheet music or a backing track on CD.

Please review the audition material requirements. If you are asked to audition with a monologue, please come prepared with a monologue.

Please do not email or call us after your audition. A Six Flags talent representative will call you.

Please review the age, availability, transportation, and skill set requirements before auditioning. There is no point in auditioning for any role if you do not meet the requirements listed in the casting notice.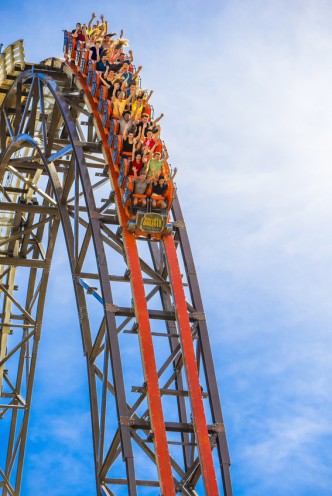 View All Job Openings
Laughing, Learning, and Loving Your Job
This is your opportunity to find the kind of position that will make you truly love coming to work every day. The possibilities are endless! Six Flags offers real leadership opportunities, exclusive events, and unbelievable perks and discounts to our employees. You'll have fun working alongside other entertainment enthusiasts in any one of our amazing locations. There are so many advantages to working at Six Flags, and we want you to enjoy every one of them!