Come out and Join Us at one of our upcoming Job Fairs
January 26 from 11 AM – 4 PM
February 2 from 11 AM – 4 PM
February 9 from 11 AM – 4 PM
Featured Jobs at Six Flags St. Louis
Security Officer
Apply
Description
THIS IS AN HOURLY & SEASONAL POSITION.
Role Summary:
Uniform Security. To protect employees, guests and company property. Maintain and monitor access control points to the property. To assist employees and guests with questions and problems. To enforce company policies and laws of the state.
Key Duties:
Support and promote the company's Guest First Philosophy.

Visually inspect ID cards and bags while standing at post.

Patrol on foot over large areas of park.

Direct vehicle traffic using hand signals.

Communicate information and directions to guests and employees.

Drive mobile units.

Rapidly respond to emergency situations.

Assist guets and employees in problem solving.

Complete paperwork and incident reports as necessary.
Ideal Candidate Should Possess:
Must be at least 21 years old.
High School Diploma or equivalent.
Must have a valid Missouri Driver's License.
Must be able to qualify for Metro Security License.
Able to walk and stand for long periods of time.
Excellent problem solving and communication skills.
Ability to remain calm in stressful or emergency situations.
Park:
Six Flags St. Louis
Apply
Six Flags St. Louis, MO Eureka
The Ultimate Theme Park for Work and Play in the Midwest
BIG FUN
Join the team and enjoy an experience of a lifetime. Located just west of St. Louis, Six Flags St. Louis is the ultimate theme park for work and play. We are entertainment central for millions of guests with our amazing rides, shows and water park.

BIG PERKS
Six Flags St. Louis offers you a job of thrills and excitement each and every day. Each season we have opportunities available in a wide variety of departments. Whether you are looking for the opportunity to work in our rides department or you're interested in working in one of our many high quality food stands, we have a position for you. A job at Six Flags St. Louis is your ticket to valuable experience. You are able to earn tickets for friends and family members and have a flexible schedule. If you are looking for a position in admissions, entertainment, food service, games, Hurricane Harbor, park services, retail or rides, then Six Flags St. Louis is your ticket to a summer of fun.
International Jobs Program
Six Flags Theme Parks offer over 2,500 great jobs for foreign students/participants throughout our award-winning parks in the United States. This year, you could be working in the U.S.A. and sightseeing in your spare time. If you're interested in having an experience of a lifetime, please apply through the agency working with Six Flags St. Louis:
Six Flags will continue to provide job offers to qualified applicants after a successful interview. If selected, Six Flags St. Louis will offer participants a minimum hours guarantee for the 2016 season. The hours range from 30 to 35 (depending on time of year) with a minimum of 35 hours available during the summer season.
GENERAL INFORMATION
For the 2016 Season, Six Flags St. Louis will be offering opportunities to work in the Food Service Department to our International Particiapnts. This Job requires a great deal of interaction with our guests, so you will need a solid command of English.
HOUSING
Housing is provided by United Work and Travel for a fee to the participants working at Six Flags St. Louis. You'll be charged rent on a weekly basis and it will be deducted from your paycheck for convenience.
TRANSPORTATION
United Work and Travel provides transportation from housing to Six Flags St. Louis for a weekly fee. United Work and Travel works with Six Flags to ensure the transportation schedule accommodates your shifts at work.
BENEFITS
Most Six Flags Parks offer these benefits and more:
Discounts at in-park stores

Free park tickets

Sight-seeing trips

Employee parties

Flexible work schedules

Opportunity for additional hours (if available)
HOW TO APPLY
All inquiries and applications should be directed to United Work and Travel. Please do not apply for positions through this website.
Auditions
If you've got talent, we want to meet you. We're always in the market for gifted actors, singers, dancers, magicians, specialty acts, and performers of all types. For up to date information regarding Auditions, please visit our Events Page on sixflags.com.
TIPS FOR TALENT
Arrive early to the audition.
Be prepared to stay all day.
Bring accompaniment as requested above, if applicable.
Come prepared to dance.
Bring your scheduling conflicts with you.
Bring snacks and water.
Auditions are open to participants only.
Bring updated headshots and resumes, if available.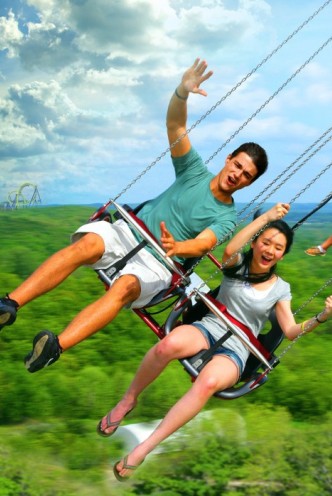 View All Job Openings
Laughing, Learning, and Loving Your Job
This is your opportunity to find the kind of position that will make you truly love coming to work every day. The possibilities are endless! Six Flags offers real leadership opportunities, exclusive events, and unbelievable perks and discounts to our employees. You'll have fun working alongside other entertainment enthusiasts in any one of our amazing locations. There are so many advantages to working at Six Flags, and we want you to enjoy every one of them!