Featured Jobs at Six Flags America
Business Development Specialist (Sales, Full-Time)
Apply
Description
Are you a high-energy, driven professional with sound business acumen, strong technical aptitude and natural marketing instincts to join our organization as a Business Development Specialist? If so, you could be a key contributor to our company's large Group Sales business strategy.
This position will require a strong multi-tasker, great communicator, problem solver and all around team player. The Business Development Specialists will interact with Marketing and Sales at both the park and corporate level.
Key Responsibilities
Support sales team to qualify inbound leads, develop new business opportunities and efficiently funnel prospects through various stages of the sales cycle
Execute coordinated and timed digital sales strategy with emphasis on inbound sales lead generation and email marketing
Deliver best-in-class daily oversight of CRM program Salesforce thru strong communication, tracking, end user support and monetization of program
Assist in defining business processes using CRM software's best practices and general maintenance including the oversight of user accounts, importing and exporting of data
Work with our local park and corporate headquarter marketing and sales teams to create engaging, high performing email layouts, digital & print content
Support our B2B marketing automation objectives to drive group business
Analyze and utilize various data sources to explain drivers of business performance to inform both tactical and strategic marketing decisions
Minimum Qualifications
Bachelor's Degree in Marketing, Business or related field
2-4 years of full-time (post college) relevant experience
Demonstrated/proven attention to detail
Demonstrated project management and organizational skills
Sales Force (CRM)/Marketing automation application experience
Preferred Qualifications
Strong knowledge of CRM cloud applications (hands on experience with Salesforce CRM program)
Enterprise prospecting experience is a plus
Experience with marketing automation programs
Strong technical aptitude and should be very quick when it comes to learning new applications
Must be a self-starter who is accustomed to working very independently
Experience acting as a liaison between Sales and Marketing teams
Inside sales experience & live chat applications a plus
Experience with working within e-commerce sales
Good time management with strong organizational skill
Six Flags supports a smoke and drug free equal opportunity workplace
Park:
Six Flags America
Apply
Six Flags America, Baltimore/Washington, DC Bowie
Come Work at the Nation's Capital of Thrills.
Conveniently located between Washington, Baltimore, and Annapolis, Six Flags America is Maryland's only theme park and the nation's capital of More Fun. With more than 100 rides - including 10 roller coasters - games, shows, and attractions, we have thrilling job opportunities for everyone.
From exhilarating coasters like BATWING and SUPERMAN: Ride of Steel to dining experiences such as the Johnny Rocket's and Cold Stone Creamery, plus daily shows and concerts and special events all season long, there's no shortage of stimulating employment positions. With opportunities in rides, foods, retail, park services, entertainment, and guest relations, you'll be sure to find a perfect job match.
Within Six Flags America, Hurricane Harbor water park features 19 thrilling slides and water attractions. It's a great way to spend a summer cooling off in Hurricane Bay, one of the country's largest wave pools, or defying gravity on Halfpipe, a four-story slide. There's also the Wahoo River, a lazy river ride for the whole family and Buccaneer Beach for the youngest water lovers.
With so much to offer our Guests, our exciting positions are sure to present new adventures for you each and every day.
Internships
Six Flags America is looking for the best and the brightest to participate in a program unlike any other. We want people with ambition, drive, a passion for learning, and a desire to grow within the world's largest regional theme park company.
PROGRAM INFORMATION
WHAT CAN SIX FLAGS DO FOR YOU?
Experiential Learning
When it comes to internships, there are those made for watching and those made for doing. Which would you rather do? Here at Six Flags, we believe that the best way for you to learn is by getting involved and being a part of the process.

Networking
As many professionals will tell you, the world of business is as much about who you know as it is about what you know, and hardest part is just "getting your foot in the door." One of the most beneficial parts of this program is the personal time you will get with industry leaders specializing in your field.

Develop Transferable Skills
Even if you choose not to stay in the amusement park industry, working at Six Flags will help you develop skills that you can take with you anywhere you go.
INTERNSHIP PROGRAM OVERVIEW
Compensation
Our interns are PAID! Pay rate varies by position. Most interns are hired into managerial or supervisory positions, with 25-35 hours a week guaranteed.

Duration
Internships are approximately 10-20 weeks, depending on department and position.

Deadlines
Applications are accepted on a rolling basis depending on department, but positions are limited.

To Apply
This program is open to any college student currently enrolled in an accredited university or technical school. All majors are encouraged to apply. For more information, contact Ashley Williams, Recruiting Supervisor, (301) 249-1500 ext.3233 or email sfahr@sixflags.com.
CURRENT INTERN POSITION LISTINGS
International Jobs Program
Six Flags Theme Parks offer over 2,500 great jobs for foreign students / participants throughout our award winning parks in the United States. This year, you could be working in the U.S.A. and sightseeing in your spare time. If you're interested in having an experience of a lifetime, please apply through one of our partner agencies.
Six Flags will continue to provide job offers to qualified applicants after a successful interview. If selected, Six Flags will offer participants a minimum hours guarantee in 2016. The hours range from 30 to 35 (depending on time of year) with a minimum of 35 hours available during the summer season.
GENERAL INFORMATION
Six Flags has jobs in Ride Operations, Games and Attractions, Lifeguarding, Food Services, Entertainment, Ticket Selling, Safari Touring, and Guest Relations. Many of our parks have leadership positions available for qualified applicants. All our jobs require a great deal of interaction with our guests, so you will need a solid command of English. Our pay rates vary between different parks and positions.
HOUSING
Housing is provided for a fee for all Six Flags jobs. Housing varies by location. Most of our housing accommodations have kitchens. You'll be charged rent on a weekly basis and it will be deducted from your paycheck for convenience.
TRANSPORTATION
If you don't live close enough to walk to work, Six Flags will arrange transportation. Most parks charge a nominal fee for this service.
BENEFITS
Most Six Flags Parks offer these benefits and more:
Discounts at in-park stores

Free park tickets

Sight-seeing trips

Employee parties

Flexible work schedules

Opportunity for additional hours (if available)
HOW TO APPLY
All inquiries and applications should be directed to one of our partner agencies listed above. Please do not apply for positions through this website.
Auditions
Six Flags America is holding Entertainment Auditions for the 2018 season! Auditions will be held on Saturday, February 3rd from 10:00 – 1:00, and 2:00 – 5:00 in the Human Resources building for the following positions:
Costume Characters
Ambassadors
Ushers
Technicians
Costume Shop
Auditions for Singers/Dancers/Actors will be held on Sunday, February 4th in the Grand Theater. Open Call auditions will be held from 10:00 - 3:00, and callbacks will take place from 4:00 – 7:00.
Singers – please prepare two songs, varying in style and tempo. If invited to callbacks, you will be asked to dance.
Dancers – please prepare a 1-2 minute dance combination. If invited to callbacks, you may asked to sing. We will provide CD/MP3 capabilities.
Please bring your headshot/resume, if available. For questions, please contact Craig in the Entertainment Department at 301-867-0506.
TIPS FOR TALENT
Please arrive at least 30 minutes prior to your scheduled audition time.

Please bring a recent headshot and resume with current contact information.

If you plan to audition with a musical number, please bring a backing track on CD.

Please review the audition material requirements. If you are asked to audition with a monologue, please come prepared with a monologue.

Please do not email or call us after your audition. A Six Flags talent representative will call you.

Please review the age, availability, transportation, and skill set requirements before auditioning. There is no point in auditioning for any role if you do not meet the requirements listed in the casting notice.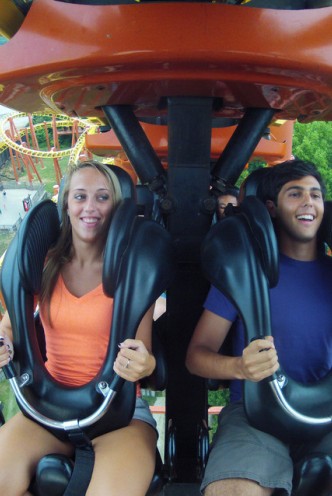 View All Job Openings
Laughing, Learning, and Loving Your Job
This is your opportunity to find the kind of position that will make you truly love coming to work every day. The possibilities are endless! Six Flags offers real leadership opportunities, exclusive events, and unbelievable perks and discounts to our employees. You'll have fun working alongside other entertainment enthusiasts in any one of our amazing locations. There are so many advantages to working at Six Flags, and we want you to enjoy every one of them!