Featured Jobs at Six Flags Over Georgia
Recruiter (Seasonal)
Apply
Description
Seasonal Job Posting
Six Flags Over Georgia
Human Resources Department
Seasonal Recruiter
Job Summary:
This position is designed to implement a specialized recruiting plan for the Six Flags Atlanta Properties in order to attract the best-qualified applicants to meet park-staffing needs.
Key Duties and Responsibilities:
Coordinate and perform the recruitment for all park positions.
Write new or update existing job descriptions and postings for all open seasonal positions.
Schedule & attend job fairs/recruiting events on a weekly/daily basis through the season in order to maintain park staffing levels.
Create, maintain, and recruit for new park programs that develop a diverse workforce.
Establish working relationships with local colleges, high schools, senior centers, and job placement agencies to help with recruitment efforts.
Responsible for the completion and integrity of weekly reports that track critical recruitment information.
Work with our National Recruitment Agency to develop and maintain recruitment campaigns for Six Flags Over Georgia and Six Flags White Water to include ad placement.
Assist the employment center with processing, interviewing & phone calls when needed.
Other duties as assigned. 
Skills and Qualifications:
Must be at least 18 years of age.
Must be able to work 30-40+ hours a week.
Must be able to work a flexible schedule including, nights, weekends, holidays, and extra hours if needed.
At least two years of Theme park experience, preferred but not required.
Excellent presentation, verbal and written communication skills.
Commitment to Guest Service.
Possess a working knowledge of recruitment methods and prior experience with recruitment.
Proficient in Microsoft Office Products.
Must be able to work independently.
Capable of facilitating strong communication among staff.
Must be able to promote good will and enthusiasm to fellow Team Members and Management.
Strong organizational and time management skills.
Creativity and innovative ability to think out of the box.
Park:
Six Flags Over Georgia
Apply
Six Flags Over Georgia, Atlanta, GA Austell
The Sixth Largest Employer in Cobb County
Named for the six national flags that have flown over Georgia throughout its history, this park is rich in Southern heritage.

Six Flags Over Georgia has many exciting job opportunities available in Spring 2016. Whether it's the mind-blowing rides like Goliath, The Great American Scream Machine, The Monster Mansion, or the exciting attractions like The MonStore and We Got the Beat, Six Flags Over Georgia is always searching for enthusiastic individuals to become part of the team.

With the most thrilling employment opportunities, there's no wonder why our employees enjoy a new adventure each and every day.
International Jobs Program
Six Flags Over Georgia is not offering an International Jobs Program for this season.
Auditions
If you've got talent, we want to meet you. We're always in the market for gifted actors, singers, dancers, magicians, specialty acts, and performers of all types. Please bookmark this page and check back often for the latest casting audition notices.

ADDITIONAL INFORMATION
Text "Auditions" to 292929 and you will be added to our database to receive text messages about upcoming auditions for Six Flags Over Georgia (standard text messaging rates may apply).
TIPS FOR TALENT
Arrive early to the audition.
Bring snacks and water.
Auditions are open to participants only.
Bring updated headshots and resumes, if available.
Apply online at www.sixflagsjobs.com prior to the audition.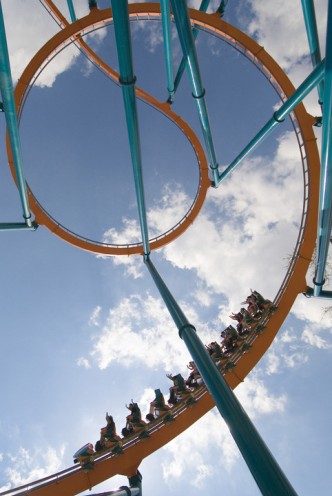 View All Job Openings
Laughing, Learning, and Loving Your Job
This is your opportunity to find the kind of position that will make you truly love coming to work every day. The possibilities are endless! Six Flags offers real leadership opportunities, exclusive events, and unbelievable perks and discounts to our employees. You'll have fun working alongside other entertainment enthusiasts in any one of our amazing locations. There are so many advantages to working at Six Flags, and we want you to enjoy every one of them!