Featured Jobs at Six Flags Over Georgia
HVAC/Plumbing Technician
Apply
Description
HVAC/Plumbing Technician
Job Summary:
This position is designed to install and repair industrial and commercial refrigerating systems. Assemble, install, and repair pipes, fittings, and fixtures of heating, water, and drainage systems by performing specific duties.
Status:
Fulltime Hourly, Non-Exempt. This position is covered by a Collective Bargaining Agreement
Essential Duties and Responsibilities (HVAC/Plumbing):
Lays out reference points for installation of structural and functional components.
Working knowledge of residential and commercial HVAC units, chill water systems and boilers.
Screws, bolts, rivets, welds, and brazes parts to assemble structural and functional components such as motors, controls, switches, gauges, wiring harnesses, valves, pumps, compressors, condensers, cores and pipes.
Pumps specified gas or fluid into system. Starts system, observes operation, read gauges and instruments, and adjusts mechanisms such as valves, controls, and pumps to control level of fluid, pressure, and temperature in system.
Dismantles malfunctioning systems and tests components. Replaces or adjusts defective or worn parts to repair systems. Insulates shells and cabinets of systems and install wiring to connect components to electric power source.
Study building plans and working drawings to determine work aids required and sequence of installations.
Inspect structures to ascertain obstructions to be avoided to prevent weakening of structure resulting from installation of pipe.
Able to identify, diagnose and coordinate repairs to large-pipe, underground water main systems.
Locate and mark position of pipes and pipe connections and passage holes for pipes in walls and floors.
Cut openings in walls and floors to accommodate pipe and pipe fittings.
Cut and thread pipe.
Bend pipe to required angle by use of pipe-bending machine or by placing pipe over block and bending it by hand.
Assemble and install valves, pipe fittings, and pipes composed of metals, such as iron, steel, brass, and lead and nonmetals such as glass, vitrified clay, and plastic.
Fill pipe systems with water or air and read pressure gauges to determine if system is leaking.
Install and repair plumbing fixtures such as sinks, commodes, bathtubs, water heaters, hot water tanks, garbage disposal units, dishwashers and water softeners.
Repair and maintain plumbing by replacing washers in leaky faucets, mending burst pipes and opening clogged drains.
Weld holding fixtures to steel structural members.
Other duties as assigned.
The ideal candidate should possess:
Associates Degree (A.A) or equivalent from two --year college or technical school
6 months to one year related experience and/or training
Ability to work weekends and variable shifts.
Must be able to work both indoors and outdoors in all weather conditions.
Current Driver's License and clean driving record.
Refrigerant Certification EPA/RSES.
State License -- Plumbing or Air Conditioning/Refrigeration a plus.
Ability to stand on a regular basis; frequently walk, climb and balance; capable of lifting or moving up to 100 pounds.
Water Treatment CPO (Certified Pool Operator -- on the job certification w/in 12 months of hire).
Six Flags is a Smoke and Drug Free Equal Opportunity Employer
Park:
Six Flags Over Georgia
Apply
Six Flags Over Georgia, Atlanta, GA Austell
The Sixth Largest Employer in Cobb County
Named for the six national flags that have flown over Georgia throughout its history, this park is rich in Southern heritage.

Six Flags Over Georgia has many exciting job opportunities available in Spring 2016. Whether it's the mind-blowing rides like Goliath, The Great American Scream Machine, The Monster Mansion, or the exciting attractions like The MonStore and We Got the Beat, Six Flags Over Georgia is always searching for enthusiastic individuals to become part of the team.

With the most thrilling employment opportunities, there's no wonder why our employees enjoy a new adventure each and every day.
International Jobs Program
Six Flags Over Georgia is not offering an International Jobs Program for this season.
Auditions
If you've got talent, we want to meet you. We're always in the market for gifted actors, singers, dancers, magicians, specialty acts, and performers of all types. Please bookmark this page and check back often for the latest casting audition notices.

ADDITIONAL INFORMATION
Text "Auditions" to 292929 and you will be added to our database to receive text messages about upcoming auditions for Six Flags Over Georgia (standard text messaging rates may apply).
TIPS FOR TALENT
Arrive early to the audition.
Bring snacks and water.
Auditions are open to participants only.
Bring updated headshots and resumes, if available.
Apply online at www.sixflagsjobs.com prior to the audition.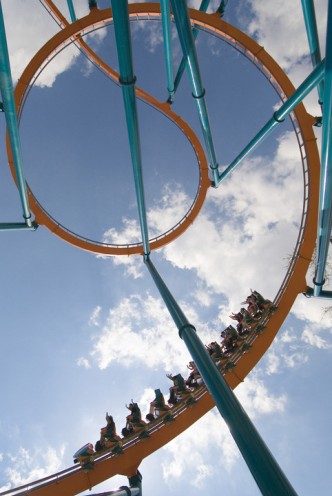 View All Job Openings
Laughing, Learning, and Loving Your Job
This is your opportunity to find the kind of position that will make you truly love coming to work every day. The possibilities are endless! Six Flags offers real leadership opportunities, exclusive events, and unbelievable perks and discounts to our employees. You'll have fun working alongside other entertainment enthusiasts in any one of our amazing locations. There are so many advantages to working at Six Flags, and we want you to enjoy every one of them!