Featured Jobs at Six Flags Over Georgia
Food Warehouse Team Member
Apply
Description
The purpose of this position is to ensure that the park is fully stocked and ready to meet the needs of our guests.
ACTIVITIES INCLUDE:
Assist with counting weekly inventories for warehouse.
Unloading trucks and receiving goods, stocking shelves.
Pull, process and deliver product when needed.
Maintain a clean warehouse at all times. ( floors swept, trash empty, etc)
Ensure all safety rules and regulations are being followed, daily checklists are being completed for equipment.
Receiving, and distribution of all goods to and from the Food Warehouse.
Other duties as assigned.
THE IDEAL CANDIDATE MUST MEET THESE QUALIFICATIONS:
Be at least 18 years of age
Have a valid Georgia Driver's License
Experience in a fast paced, high volume location
Must be able to work various shifts, nights, weekends, and holidays
Must be able to stand for long periods of time and must be able to lift 50 lbs.
Must be able to withstand extreme temperature differences.
.
Park:
Six Flags Over Georgia
Apply
Six Flags Over Georgia, Atlanta, GA Austell
The Sixth Largest Employer in Cobb County
Named for the six national flags that have flown over Georgia throughout its history, this park is rich in Southern heritage.

Six Flags Over Georgia has many exciting job opportunities available in Spring 2016. Whether it's the mind-blowing rides like Goliath, The Great American Scream Machine, The Monster Mansion, or the exciting attractions like The MonStore and We Got the Beat, Six Flags Over Georgia is always searching for enthusiastic individuals to become part of the team.

With the most thrilling employment opportunities, there's no wonder why our employees enjoy a new adventure each and every day.
International Jobs Program
Six Flags Over Georgia is not offering an International Jobs Program for this season.
Auditions
If you've got talent, we want to meet you. We're always in the market for gifted actors, singers, dancers, magicians, specialty acts, and performers of all types. Please bookmark this page and check back often for the latest casting audition notices.

ADDITIONAL INFORMATION
Text "Auditions" to 292929 and you will be added to our database to receive text messages about upcoming auditions for Six Flags Over Georgia (standard text messaging rates may apply).
TIPS FOR TALENT
Arrive early to the audition.
Bring snacks and water.
Auditions are open to participants only.
Bring updated headshots and resumes, if available.
Apply online at www.sixflagsjobs.com prior to the audition.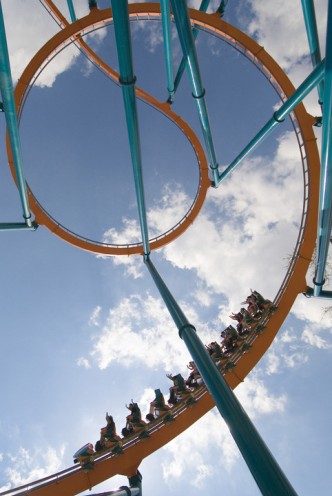 View All Job Openings
Laughing, Learning, and Loving Your Job
This is your opportunity to find the kind of position that will make you truly love coming to work every day. The possibilities are endless! Six Flags offers real leadership opportunities, exclusive events, and unbelievable perks and discounts to our employees. You'll have fun working alongside other entertainment enthusiasts in any one of our amazing locations. There are so many advantages to working at Six Flags, and we want you to enjoy every one of them!