Featured Jobs at Six Flags Over Georgia
Business Development Specialist
Apply
Description
Full-Time Job Opportunity
Business Development Specialist -- Group Sales
Six Flags Over Georgia
Job Summary
Are you a high-energy, driven professional with sound business acumen, strong technical aptitude and natural marketing instincts to join our organization as a Business Development Specialist? If so, you could be a key contributor to our company's large Group Sales business strategy. This position will require a strong multi-tasker, great communicator, problem solver and all around team player. The Business Development Specialist will interact with Marketing and Sales at both the park and corporate level.
Key Responsibilities
Support sales team to qualify inbound leads, develop new business opportunities and efficiently funnel prospects through various stages of the sales cycle
Execute coordinated and timed digital sales strategy with emphasis on inbound sales lead generation and email marketing
Deliver best-in-class daily oversight of CRM program Salesforce through strong communication, tracking, end user support and monetization of program
Assist in defining business processes using CRM software's best practices and general maintenance including the oversight of user accounts, importing and exporting of data
Work with our local park and corporate headquarter marketing and sales teams to create engaging, high performing email layouts, digital & print content
Support our B2B marketing automation objectives to drive group business
Analyze and utilize various data sources to explain drivers of business performance to inform both tactical and strategic marketing decisions 
Minimum Qualifications
Bachelor's Degree in Marketing, Business or related field
2-4 years of full-time (post college) relevant experience
Demonstrated/proven attention to detail
Demonstrated project management and organizational skills
Sales Force (CRM)/Marketing automation application experience
Preferred Qualifications
Strong knowledge of CRM cloud applications (hands on experience with Salesforce CRM program)
Enterprise prospecting experience is a plus
Experience with marketing automation programs
Strong technical aptitude and should be very quick when it comes to learning new applications
Must be a self-starter who is accustomed to working very independently
Experience acting as a liaison between Sales and Marketing teams
Inside sales experience & live chat applications a plus
Experience with working within e-commerce sales
Good time management with strong organizational skills
Application and resumes are due by COB Friday, January 25, 2019.
Six Flags is a Smoke and Drug Free Equal Opportunity Employer
Date Posted: 01/09/2019

Park:
Six Flags Over Georgia
Apply
Six Flags Over Georgia, Atlanta, GA Austell
The Sixth Largest Employer in Cobb County
Named for the six national flags that have flown over Georgia throughout its history, this park is rich in Southern heritage.

Six Flags Over Georgia has many exciting job opportunities available in Spring 2016. Whether it's the mind-blowing rides like Goliath, The Great American Scream Machine, The Monster Mansion, or the exciting attractions like The MonStore and We Got the Beat, Six Flags Over Georgia is always searching for enthusiastic individuals to become part of the team.

With the most thrilling employment opportunities, there's no wonder why our employees enjoy a new adventure each and every day.
International Jobs Program
Six Flags Over Georgia is not offering an International Jobs Program for this season.
Auditions
If you've got talent, we want to meet you. We're always in the market for gifted actors, singers, dancers, magicians, specialty acts, and performers of all types. Please bookmark this page and check back often for the latest casting audition notices.

ADDITIONAL INFORMATION
Text "Auditions" to 292929 and you will be added to our database to receive text messages about upcoming auditions for Six Flags Over Georgia (standard text messaging rates may apply).
TIPS FOR TALENT
Arrive early to the audition.
Bring snacks and water.
Auditions are open to participants only.
Bring updated headshots and resumes, if available.
Apply online at www.sixflagsjobs.com prior to the audition.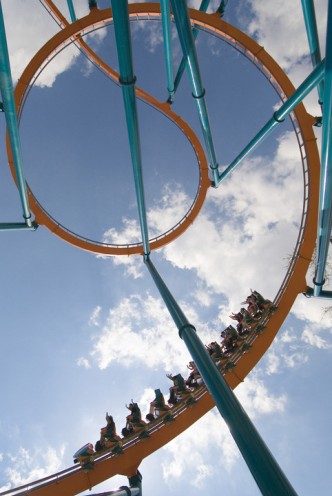 View All Job Openings
Laughing, Learning, and Loving Your Job
This is your opportunity to find the kind of position that will make you truly love coming to work every day. The possibilities are endless! Six Flags offers real leadership opportunities, exclusive events, and unbelievable perks and discounts to our employees. You'll have fun working alongside other entertainment enthusiasts in any one of our amazing locations. There are so many advantages to working at Six Flags, and we want you to enjoy every one of them!