Featured Jobs at Six Flags New England
Mechanic - Fulltime
Apply
Description
With a culture built on safety, service, fun and friendliness, integrity, innovation, and results orientation, our mission at Six Flags New England is to create fun and thrills for all ages. As a Ride Mechanic at The Coaster Capital of New England...
You'll contribute to our mission by:
Performing daily inspections of assigned rides and attractions
Performing rehab work on theme park rides and attractions
Maintaining, erecting, repairing, and troubleshooting various theme park rides and attractions
Visually inspecting and listening to machines and equipment to locate causes of malfunctions
Removing and/or replacing worn or defective parts using hand and/or power tools
Performing routine preventative maintenance on various equipment including rides and attractions
Keeping accurate logs and records of routine and preventative maintenance work performed
Complying with ride manufacturer guidelines and state regulations
You'll do it with your:
Experience as a mechanic
Strong work ethic and attention to detail
Sense of fun
Friendly, outgoing personality and ability to address guest concerns
Willingness to work in a high performance team environment
You'll get:
Competitive wages with overtime opportunities
Paid vacation and sick time
Medical, dental, and vision benefits
401k, Employee Stock Purchase Program, profit sharing
You'll know you're ready if you're:
18 years old or older with a valid driver's license
Able to work at heights over 200 feet
Able to lift 50 lbs. without difficulty
Willing to work a flexible schedule, including evenings, weekends, and holidays
Able to meet the physical demands of the job, with or without reasonable accommodations, including lifting, bending, standing for long periods of time, climbing, etc.
Able to successfully complete pre-employment background and drug screenings
Park:
Six Flags New England
Apply
Six Flags New England, Springfield, MA Agawam
The Most Exciting Employer in New England
Whether you want to be a performer, character, ride operator, games attendant, water aide or cleaning crew member, you're going to be part of a wonderful team with exciting benefits. Perks include competitive wages, valuable experience, incentive bonuses, flexible scheduling, free park admission, in-park discounts, exclusive employee events, reward programs, scholarships and the opportunity to make new and lifelong friends. You'll be surrounded by friends, food, and fun – all while getting paid.
With so much to offer in terms of job opportunities, you'll enjoy new adventures each and every day.
International Jobs Program
Six Flags Theme Parks offer over 2,500 great jobs for foreign students/participants throughout our award-winning parks in the United States. This year, you could be working in the U.S.A. and sightseeing in your spare time. If you're interested in having an experience of a lifetime, please apply through one of our partner agencies.
Council on International Education (CIEE)
Six Flags will continue to provide job offers to qualified applicants after a successful interview. If selected, Six Flags will offer participants a minimum hours guarantee. The hours range from 30 to 35 (depending on time of year) with a minimum of 35 hours available during the summer season.
GENERAL INFORMATION
Six Flags has jobs in Ride Operations, Games and Attractions, Lifeguarding, Food Services, Entertainment, Ticket Selling, Safari Touring, and Guest Relations. Many of our parks have leadership positions available for qualified applicants. All our jobs require a great deal of interaction with our guests, so you will need a solid command of English. Our pay rates vary between different parks and positions.
HOUSING
Housing is provided for a fee for all Six Flags jobs. Housing varies by location. Most of our housing accommodations have kitchens. You'll be charged rent on a weekly basis and it will be deducted from your paycheck for convenience.
TRANSPORTATION
If you don't live close enough to walk to work, Six Flags will arrange transportation. Most parks charge a nominal fee for this service.
BENEFITS
Most Six Flags Parks offer these benefits and more:
Discounts at in-park stores
Free park tickets
Sight-seeing trips
Employee parties
Flexible work schedules
Opportunity for additional hours (if available)
H2-B Visa Extensions - Limited Time
For a limited time, Six Flags is accepting applications for H2-B Visa Extensions. Please visit the link Alliance Abroad Group for further information and deadline.
HOW TO APPLY
All inquiries and applications should be directed to one of our partner agencies listed above. Please do not apply for positions through this website.
Auditions
If you've got talent, we want to meet you. We're always in the market for gifted actors, singers, dancers, magicians, specialty acts, and performers of all types. For up to date information regarding Auditions, please visit our Events Page on sixflags.com.
TIPS FOR TALENT
Arrive early to the audition.
Be prepared to stay all day.
Bring accompaniment as requested above, if applicable.
Come prepared to dance.
Bring your scheduling conflicts with you.
Bring snacks and water.
Auditions are open to participants only.
Bring updated headshots and resumes, if available.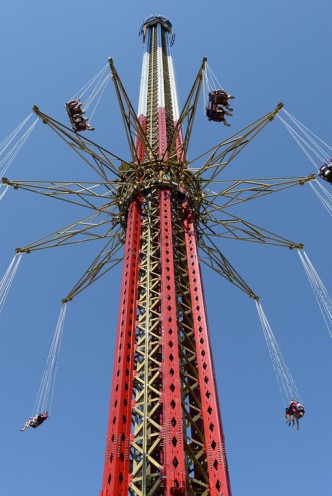 View All Job Openings
Laughing, Learning, and Loving Your Job
This is your opportunity to find the kind of position that will make you truly love coming to work every day. The possibilities are endless! Six Flags offers real leadership opportunities, exclusive events, and unbelievable perks and discounts to our employees. You'll have fun working alongside other entertainment enthusiasts in any one of our amazing locations. There are so many advantages to working at Six Flags, and we want you to enjoy every one of them!