Aquatics Senior Supervisor
Apply
Description
Aquatics Senior Supervisor
General Duties and Responsibilities:
* Leads by example by performing all duties and responsibilities while promoting Teamwork in an ongoing, supportive learning environment for all Team Members.
* Provides first class Guest Service to include interaction with Guests who are angry or upset and creates an atmosphere that requires the same of all Team Members.
* Practices, supports, maintains and enforces a total safety culture.
* Manages all aspects of Waterpark Operation to include staffing, training, and emergency response. Insures compliance with E&A and Corporate Aquatics policies and standards.
* Creates and maintains a strong team environment to increase area retention, motivation, and morale.
* Ensures appropriate staffing levels are maintained within the Aquatics Department.
* Creates and maintains all programs related to Safety, Friendliness, Cleanliness, Guest Service, and any other programs developed to support the Aquatics Department.
* Uses creative and technical skills to develop new ideas and operational procedures.
* Coordinates and performs training, including lifeguard certification, department orientation, slide training, and continuous on the job, and in-service training.
* Ensures that the entire team is always prepared and well equipped to perform the functions of their jobs.
* Adheres to and enforces all park policies.
* Assists the Waterpark Manager, and Full Time Supervisor as MOD of the Waterpark.
* Performs all other duties as assigned or as necessary to support the Aquatics Department and Six Flags Fiesta Texas.
The Ideal Candidate Must Possess:
* A clear demonstration of excellent Guest Service skills and an evident commitment to our Guest First philosophy.
* A clear commitment to total safety, and a strong, safe background.
* A Team First attitude and a people oriented approach to leadership.
* Excellent communication skills to include both verbal and written format.
* Self-starter ability to anticipate and manage multiple projects of a varied priority through planning and preparation while working with a high level of attention to detail.
* The availability to work flexible hours and varied shifts including weekdays, weekends, and holidays.
* Working knowledge of Microsoft Word, Excel and essential computer applications.
* A strong performance history in one or more of the following areas: lifeguarding, swim instruction, lifeguard training, CPO/AFO, and aquatics leadership.
* The ability to obtain a E&A Special Facilities Instructor license and CPO certification.
* A valid State Driver's License with the ability to obtain a Park Driver's License upon eligibility.
                             Candidates must submit a resume in person or by email
                                         to: Josh Parisher jparisher@sftp.com
Park:
Fiesta Texas
Apply
Six Flags Fiesta Texas, San Antonio, TX San Antonio
The Most Exciting Place to Work in San Antonio and South Texas
Are you ready to join the most exciting team in San Antonio? Six Flags Fiesta Texas has thrilling job opportunities and surprises around every corner. With award-winning rides and entertainment, and awesome special events like Fright Fest and Holiday in the Park, Six Flags Fiesta Texas has something to offer everyone.

Whether you want to work in food service, security, games, or retail, our positions are sure to offer you a new adventure each and every day.
International Jobs Program
Six Flags Theme Parks offer over 2,500 great jobs for foreign students/participants throughout our award-winning parks in the United States. This year, you could be working in the U.S.A. and sightseeing in your spare time. If you're interested in having an experience of a lifetime, please apply through our partner agency, Alliance Abroad Group.
Six Flags will continue to provide job offers to qualified applicants after a successful interview. If selected, Six Flags will offer participants a minimum hours guarantee for 2016. The hours range from 30 to 35 (depending on time of year) with a minimum of 35 hours available during the summer season.
GENERAL INFORMATION
Six Flags has jobs in Ride Operations, Games and Attractions, Lifeguarding, Food Services, Entertainment, Ticket Selling, Safari Touring, and Guest Relations. Many of our parks have leadership positions available for qualified applicants. All our jobs require a great deal of interaction with our guests, so you will need a solid command of English. Our pay rates vary between different parks and positions.
HOUSING
Housing is provided for a fee for all Six Flags jobs. Housing varies by location. Most of our housing accommodations have kitchens. You'll be charged rent on a weekly basis and it will be deducted from your paycheck for convenience.
TRANSPORTATION
If you don't live close enough to walk to work, Six Flags will arrange transportation. Most parks charge a nominal fee for this service.
BENEFITS
Most Six Flags Parks offer these benefits and more:
Discounts at in-park stores

Free park tickets

Sight-seeing trips

Employee parties

Flexible work schedules

Opportunity for additional hours (if available)
Auditions
If you've got talent, we want to meet you. We're always in the market for gifted actors, singers, dancers, magicians, specialty acts, and performers of all stripes. Please bookmark this page and check back often for the latest casting audition notices.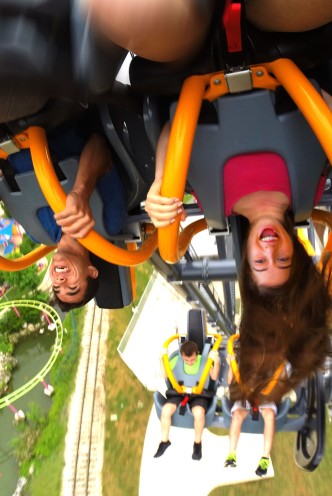 View All Job Openings
Laughing, Learning, and Loving Your Job
This is your opportunity to find the kind of position that will make you truly love coming to work every day. The possibilities are endless! Six Flags offers real leadership opportunities, exclusive events, and unbelievable perks and discounts to our employees. You'll have fun working alongside other entertainment enthusiasts in any one of our amazing locations. There are so many advantages to working at Six Flags, and we want you to enjoy every one of them!
View our Benefits