What's it like to spend your days delivering thrills at one of our park locations? In a word: awesome. And we're just getting started. There are so many amazing advantages to working at Six Flags, and we want you to enjoy every one of them.
Exciting Work
Environment

From extreme coasters to amazing events, no two days at the park will ever be the same.

Leadership
Opportunities

Ride into success as your managers teach you to lead right from the start.

Competitive
Wages

This isn't just some minimum wage job – you'll scream with excitement at our increased wages.

Flexible
Scheduling

We do our best to create an accommodating work schedule that works for you.

Free Unlimited Admission
for You and a Guest

Plummet. Scream. Laugh. Enjoy. Whenever you want, as much as you want.

Exclusive Employee Events

Even when you're not working, you'll want to come to work for ride previews and exclusive employee events.

Rewards and Recognition Programs

Our guests deserve the best. And when you deliver it, you'll be rewarded for it.

In-Park
Discounts

From food to games to retail, enjoy everything the park has to offer for less than regular price.

Real-World
Experiences

Build communication skills and confidence interacting with guests from all over the world.

Make Friends

Lasting friendships built on thrilling memories – it's one of the greatest lifetime experiences at Six Flags.

Have Fun

Six Flags is just as fun to work at as it is to visit! Get paid while experiencing your favorite place to play.
Back to homepage
The thrill of working at Six Flags doesn't stop at our extreme coasters. You'll have the chance to participate in a variety of events and holiday-themed attractions. Events and activities vary by park.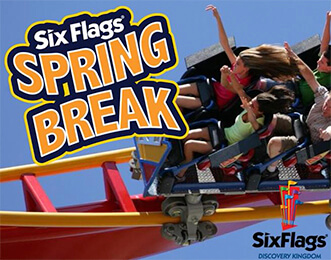 With great weather, good friends, and giant thrills, Six Flags features the hottest Spring Break entertainment. Help our guests take a well-deserved break by launching them far away from school on our coasters, challenging their star athlete to a skill game, or belting out the hottest stage tunes.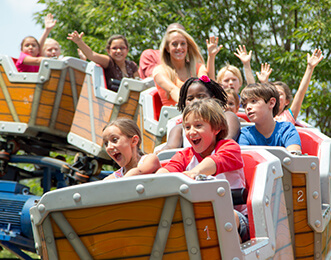 The entire family can enjoy sweet surprises during our spring festival. From hunting eggs to searching for thrills, you'll help guests find their favorite springtime treats and spend time with the friendliest bunny around – Bugs Bunny, that is!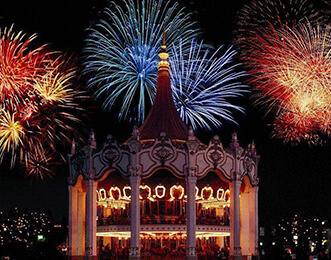 Our all-American extravaganza features games, fireworks, and, of course, coasters. Join in the action and help guests celebrate our country's independence, whether you're grilling the hot dogs, hosting a dance contest, or watching over the pool party.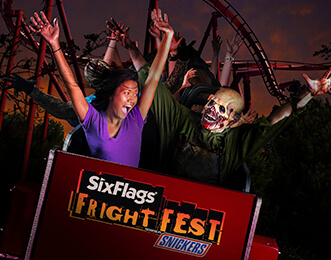 It's the spookiest time of year as zombies and ghouls take over the park. You'll help deliver the scares as a street zombie, haunted house clown, or dancing demon to make sure our guests go home with nightmares.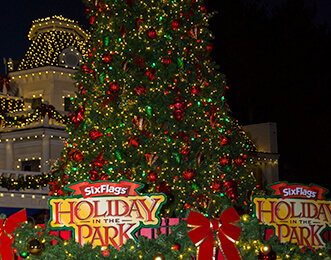 Six Flags lights up for the most magical time of the year. Join Santa's elves this winter to make our guests' wishes come true, from helping Mrs. Claus make treats in the kitchen, to flying a coaster sleigh, stuffing stockings with unique merchandise, or singing carols live in front of a giant tree.

On-the-job training.

That doesn't feel like it.
People from all around the world come to Six Flags parks, giving you the opportunity to interact with guests from different countries and cultures. Working here means you'll gain knowledge about business operations, food service, retail and marketing, while learning important professional skills like teamwork, time management and customer service.